Brake Systems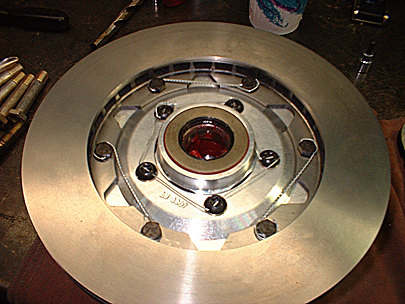 Wilwood 12" rotors with aluminum front hubs and a set of 4 piston calipers make the difference when trying to stop these Detroit Performance Cars. On the rear the same 4 piston Wilwood but with the E-brake placed in the rotor hat. We have used many brake systems and found Wilwood to be one of our favorites for fit ability, braking effectiveness and part longevity. There many other manufactures that make great performing brake systems, finding the correct combination and manufacture support is your main concern not a label on a part.
Early GM style chrome master cylinders and vacuum brake boosters makes a nice touch when swapping over from early drum brake systems. When installing updated brake systems you must incorporate a preset proportionating valve or an adjustable one allowing a full range of rear brake adjustability. We found that if you are using an OEM design system usually the preset OEM proportioning valve works fine, but once you change the calipers, and or master cylinder piston size an adjustable proportioning valve is the way to go. The brake pedal ratio must also be correct for the system being installed. Brake pressures should always be tested when any brake part is changed, modified, added or removed from the original OEM system.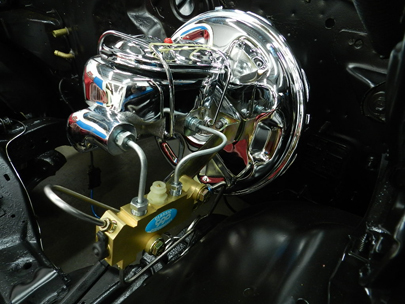 Stainless Steel brake lines are a must when upgrading a brake system, the only problem is if you do this on your own bending stainless tubing is a little tough in tight places, using benders and or by hand are the only ways in this case, while predicting where to bend the tubing is a bit of an art and knowing your benders gain or losses. Double flaring the stainless lines requires the highest quality double faring tools you can find. Once the system is finished always pressure bleed the system, this will give you the best assurance the air is removed, while allowing inspection of any connections that might be leaking.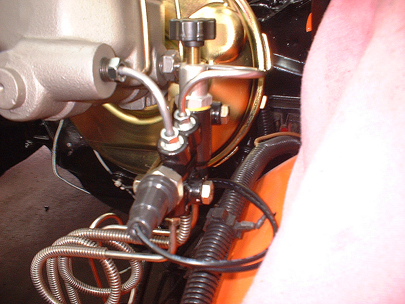 This OEM master cylinder has an added adjustable proportioning valve due to the upgraded rear 4 piston disc brake calipers and 12" rotors installed, yet retaining the OEM configured front disc brakes.