Induction Upgrades
Induction upgrades as an example are complete induction systems or a single component. The single component is normally for an existing system that is in need of a correction in the selected components a customer may have chosen. Customers may have complaints about drivability, overall performance levels, expecting more from what they have.
Popular induction upgrades are better flowing cylinder heads and intake manifolds, performance carburetor(s) and or a camshaft design change. Anyone or all of these at once will upgrade an engines power output and operating range. The same goes for EFI, EFI alone can be call an induction upgrade improving power and acceleration. Anyway you arrange it changing or improving the breathing capacity of an engines induction system improves power and efficiency.
What are the correct choices when making an upgrade? RCS Performance Engineering has performance upgrades for just about every engine made. Performance upgrades with a variety of power levels, sounds and drivability. Each upgrade is design to reach the customers goal of enjoyment and expectations. The sky is the limit when it comes to making power, but the difference is designing the right amount of power for the customer and the vehicle for its intended uses.
Street Tunnel Ram
Street Tunnel Rams are a great option when wanting to make a statement without the added work and cost of a supercharger. Both still require a hood with a hole and limited driving due to the rain, but who drives something like this in the rain anyway. This is a 550Hp 440 Chrysler engine, where peak power was created at a conservative 5,600 rpms, nice! How about 505lbs of torque @ 3,000 rpms, WOW on pump gas!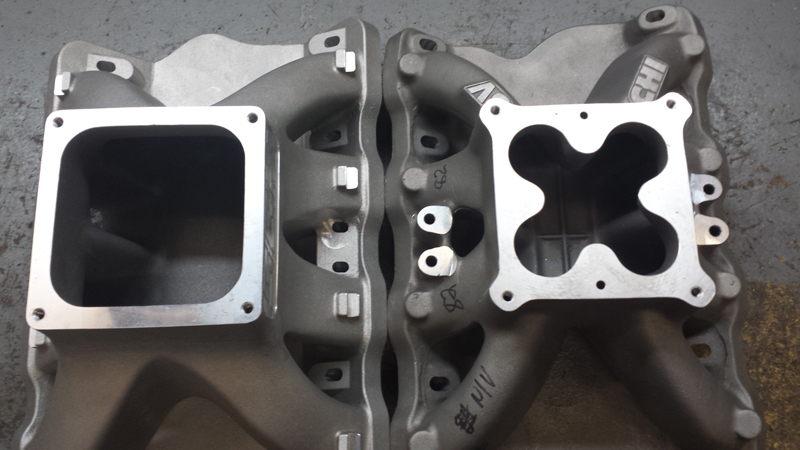 Carburetor style intake manifolds can vary a lot. For example the (left) designed is a high rpm large open plenum vs. (right) a 4 leaf clover style, more of a midrange rpm intake. In this case each of these manifolds requires a Dominator 4500 bolt flange. Both style manifolds are available in the standard 4150 bolt flange supporting a smaller plenum. The (left) intake is by SCM and the (right) by CHI both intake manifolds are from Australia. Which one would you chose?
This is a 4150 carburetor style intake from CHI that is being converted to EFI. The fuel injector bungs will be welded into place in each machined hole at a selected height. Note the relocation of the new injectors above the manufactures cast bosses. Positioning the injectors is critical for the spray angle of the injector into the runner and distance from the valve. Those customers that already have a single 4 barrel manifold can convert it to EFI pretty easily.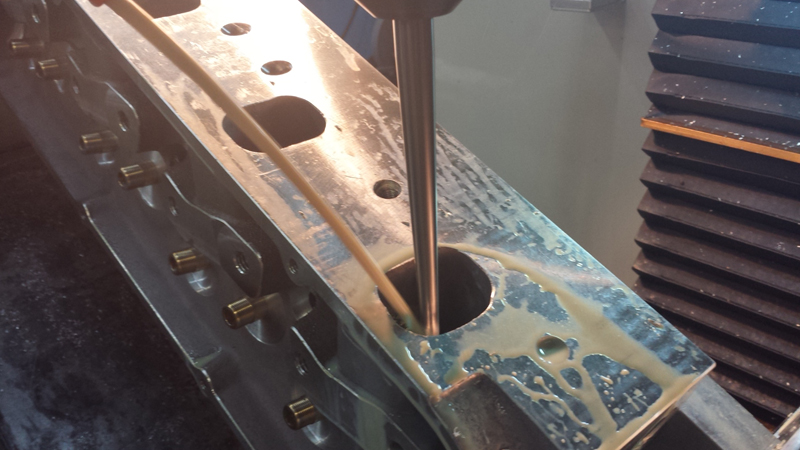 RCS offers a complete line of CNC ported cylinder heads. We have been CNC machining cylinder heads for over 20 years with our in house 5 axis CNC Head Center. Either from raw or as manufactured, we can CNC our supplied heads or CNC your currently owned heads. It is not always necessary for an aftermarket street head to need to be ported for improved air flow. It depends on the amount of air required for the given port volume cast into the head. For street performance engines it is important that the port volume be as small as possible for the advertised port flow values. That being said there are a few heads in the industry that flow very well for their design as cast. It is our job to inform you what needs to be done to achieve the power from a particular induction system. Modest experienced hand porting can sometimes accomplish what needs to be done at a lower cost. The important thing is we know what needs to be and we will only recommend the least cost direction to achieve your goal regardless of the engines power output. The last thing you want to do is to install an induction system that is over kill for your intended uses.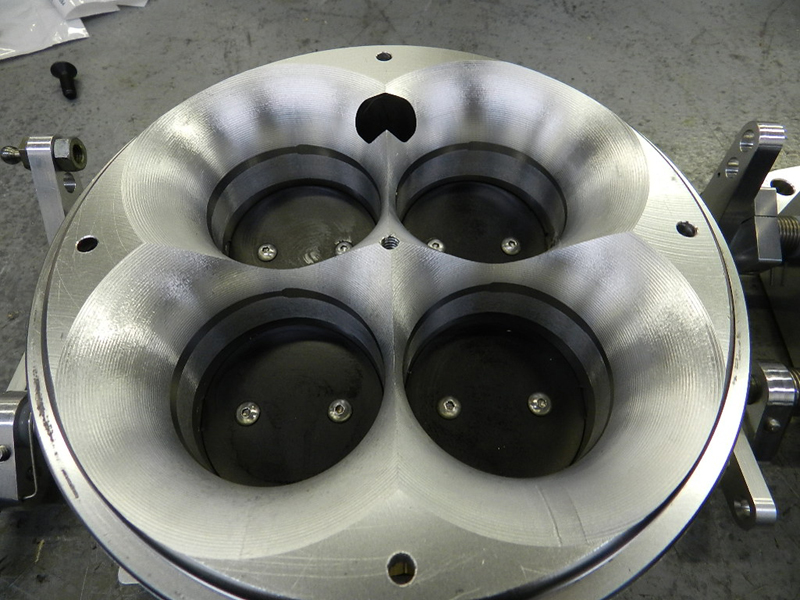 RCS can offer variety of different EFI throttle body flow rates and styles. This is an area were most novice are at a lost. Again it is our job to advise your needs, and that is from knowing everything about your engine package and your goal you are trying to reach. Unlike carburetors, at RCS, throttle bodies are selected to ways. One being the size of the throttle blades, whether one, two, or four, that is the square area of the throttle blades, second is the flow rate of the throttle body.
In many cases when it comes to a street driven engine a too small of a throttle body can hurt drivability making the throttle feel very sensitive therefore hard to control the engines acceleration in confined driving spaces even if it has the correct flow values needed for the engine power. On an EFI engine the throttle body is only a door for air and should be as large as possible when the intake ports are correct in volume and cross sectional area for the required engines induction. Unlike a carburetor were the metering fuel system needs the correct air velocity to travel over the booster allowing metered fuel to be siphoned and mixed with the incoming air stream. To large of a carburetor will create tuning issues requiring much larger jetting requirements than represented by the carburetor manufacture along with many other fuel circuits suffering the same starvation.