Suspension Upgrades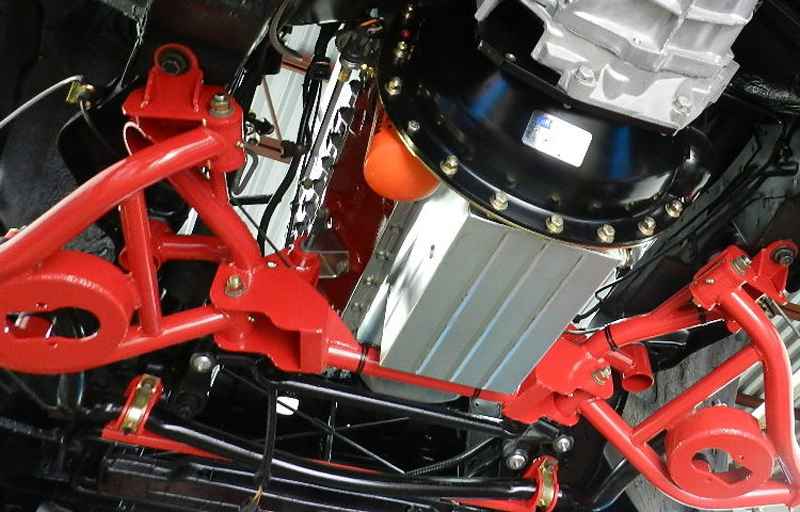 The above bolt on front suspension carriages are becoming a popular trend today, the light weight strong tubular framing with control arms give the car the added strength and agility it needs when driving the highways hard. Incorporated into the frame section are the engine mounts and cross member. With neoprene bushings and grease fittings this is a great improvement compared to the OEM soft bushings suspension system for handling improvements. These tubular lower control arms allow the reuse of a coil spring or the use of an adjustable coil over shock/strut. Not sure which shock and spring combination we were going to use so we purchased the control arms with the ability to do either. All the components bolt in the same location making it easy to reestablish the proper OEM wheel alignment. Aftermarket adjustable coil over struts give added handling and braking with lightweight 4 piston calipers and 12" rotors from Wilwood. With a modified upper strut mount bearing plate that gives you a wide range of adjustment for changes in the caster/camber settings during wheel alignment. With the caster settings you can change a car's steering sensitivity and attitude with a modest adjustment during the alignment process.
The front suspension shown above is very popular with drag racing, Pro Street and Pro Touring cars mostly due to its light design and strength for high speed driving, although it can be used for just about any type of driving. As for any suspension system the suspension has to be installed to work correctly in all driving conditions.
Rear suspension designed to support the pressures we place on them, quickly adjusting to the demands from driving and road conditions.